Rank
Service	
Born
Unit
Regiment
Date of death
Today buried
Grave


SŁOŃSKI - OSTOJA Jerzy Karol Józef
kpt.
P 0717
20.7.1910 Tarnów
R.A.F. Polish
306 Sqdn.
29.8.1941 North Sea
Town Cemetery, Duinkerken (Dunkirk), France  
Plot 2, Row 2, Grave 18

Kpt. Słoński - Ostaja Jerzy Karol was shot down 
with Spitfire IIIB, P 8507, code UZ-Z by a German Bf109 
over Hazebrouck, France during Circus 88, France.

His brothers Słoński-Ostoja Bogdan and Słoński-Ostoja Marek died as well.

On the 3 headstones the family-name OSTAJA-SŁOŃSKI has been mentioned, 
but in Polish sources SŁOŃSKI-OSTAJA is always recorded. 
On the Polish War Memorial at Northolt the name is written in the same way.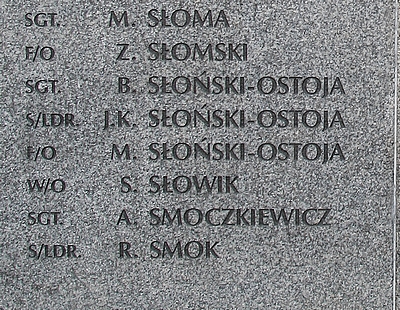 photo: Rob Philips
[About Dunkirk Town Cemetery]
[Click for more details]
HOME
ABBREVIATIONS
ALPHABET