Rank
Service	
Born
Unit
Regiment
Date of death
Today buried
Grave


SŁOŃSKI - OSTAJA Bogdan
sierż. pil.
782684
1.1.1919 Tarnów
R.A.F. Polish
58 O.T.U.
30.10.1941, Malingshead Farm, Scotland
Grandsable Cemetery, Grangemouth, Scotland
Section I, Joint Grave 14

Sierż. Słoński - Ostaja Bogdan made a training-flght with 
Spitfire I, code  X4251.
Because of the incoming mist he flew into a hillside at Malingshead Farm. 
The aircraft exploded and burnt out. 

His brothers Słoński-Ostoja Karol Józef and Słoński-Ostoja Marek died as well. 

On the 3 headstones the family-name OSTAJA-SŁOŃSKI has been mentioned, 
but in Polish sources SŁOŃSKI-OSTAJA is always recorded. 
On the Polish War Memorial at Northolt the name is written in the same way.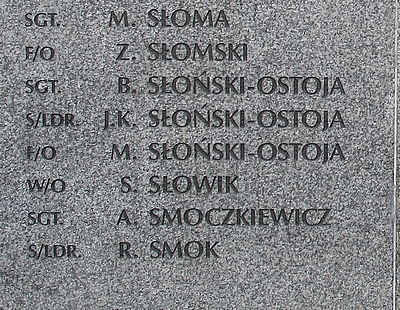 photo: Rob Philips
[about GRANDSABLE Cemetery]
[Click for more details]
HOME
ABBREVIATIONS
ALPHABET