The SEARCH FOR P/O CZESŁAW OBERDAK
On Tuesday the 30th of May 1944 at 12.30 hours the Polish pilot Czesław Oberdak made an emergency-landing in a pasture near the village of Dalmsholte - situated between Dalfsen and Ommen, the Netherlands.

He flew a North-American Mustang MK III with the code UZ-A, escorting American bombers, which had bombed the town of Schornebeck/Magdeburg in Germany. The engine of his Mustang was damaged by German anti-aircraft fire, while he was returning to his home base in Coolham, England.

After a successful emergency-landing he first set fire to his plane and after that he ran to the woods to hide himself for the possibly present Germans. A Dutch young man took him up and contacted him with the Dutch Resistance.

Afterwards someone of this organisation transported him to Ommen on his bike. There Oberdak met three Allied Airmen, who had found refuge there earlier. One of them was the American Frank Coslett, in whose company he remained for several months.

When it became too dangerous at Ommen, they were transported to Dalfsen and later-on they were accommodated at Zwolle. At the end of July Oberdak and Coslett travelled to Amsterdam by train, where they got a safe hiding-place. There they left on the 6th of December 1944 in order to reach the liberated Southern part of the Netherlands by bike.

Alas! they were discovered in their hiding-place in the neighbourhood of Otterlo by Germans. After that they were locked up in "De Kruisberg", a prison at Doetichem. There he was seen alive for the last time by witnesses in the beginning of March 1945 and afterwards any trace of Czesław Oberdak was lacking.

With reference to a letter from Czesław's sister Ludmilla the journalist Richard Schuurman started a search which lasted a great many years. From the witnesses' stories he heard, is to be concluded what kind of personality Oberdak was: a good singer and a talented drawer.

But also he was afraid; so afraid, that he nearly always was at the outlook when other persons-in-hiding were playing cards or busy with other things. When he went to sleep, he hid himself at the most remarkable places; sometimes to his hosts' displeasure.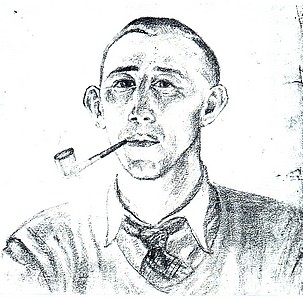 Oberdak made this portrait of one of his hosts.
There were several hypotheses:
Frank Coslett declared that in the beginning of March 1945 the Germans took a group of 40 men out of the cell, among whom also Czesław Oberdak. On the 8th of March this group has been shot near the inn "Woeste Hoeve", situated between Apeldoorn and Arnhem. Altogether 117 prisoners of the Germans were shot there without any form of lawsuit.

It was an action of revenge of the occupants, because the Dutch Resistance attacked SS general Hans Rauter's car there. He was the highest German police-commander in the Netherlands.

All victims, except two, were identified later. These two victims lay buried since 1982 as "Unknown Dutchman" in Loenen.

At the urgent request of the next of kin was launched last year a review by the "Recovery and Identification Unit Royal Netherlands Army". In this case was used DNA of his sister with the result that there was a match with the DNA of Czesław.

After this surprising discovery his mortal remainders were exhumed and on 10.12.2009 reburied in the grave of the family Oberdak in Kraków, Poland.
HOME
ABBREVIATIONS
ALPHABET