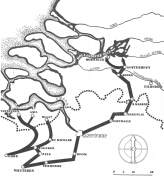 click on map to enlarge

After the heavy days of the 16th-19th of September 1944 in the South-West of The Netherlands, the Poles were given a week's rest in Belgium.

On September 27 the 1st Polish Armoured Division was ordered to move into eastern direction across the North of Belgium to the eastwing of the First British Corps. There a new action started on September 29th.

The Poles were ordered to capture the triangle of Rijkevorsel, Merksplas and Beerse and after that march to Baarle-Nassau and Tilburg.

Near Sint-Jozef-Rijkevorsel the English "Polar Bear" division had already gained a small bridgehead across the canal from Antwerpen to Turnhout and they also had built two Bailey bridges there.

The English troops themselves marched to the North on September 29. A big complex of buildings was situated there, called "Merksplas Kolonie", which was heavily defended by the Germans.

At the same time the Poles advanced from the bridgehead to the North-East. The Germans used the rough, uncultivated terrain and it was very difficult for the Poles to advance, because hardly any tanks could be used. There were many casualties.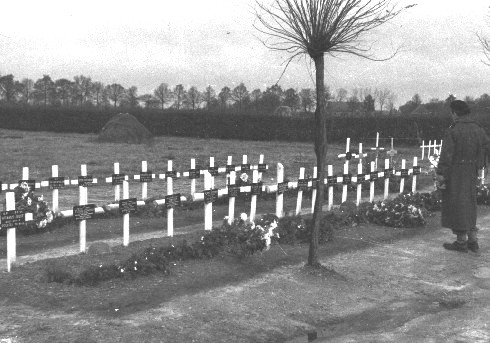 Temporary Polish War Graves at Merksplas, Belgium.
Not before september 30th Merksplas was liberated from the German occupants. The next day the march to the North was continued. One battle-group went into the direction of Lipseinde and Zondereigen. The other group followed a more eastern way and marched in the direction of the Weelde railwaystation. These were the last villages on Belgian territory.

The liberation of Zondereigen on the 1st of October lasted all Sunday and there was a fight for every house. One day after the liberation the Germans even succeeded in setting the Roman Catholic church on fire. Heavy sacrifices had to be made. The village was almost totally destroyed, 20 houses were burnt down and after the liberation 11 killed Polish soldiers were left behind on the cemetery of Zondereigen.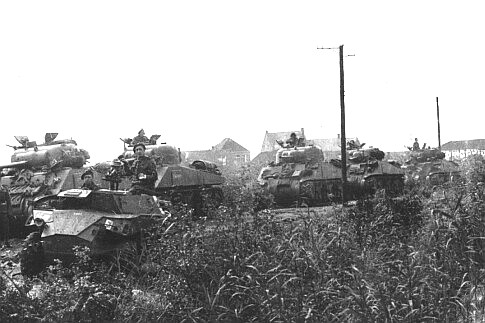 Polish troop waiting for orders at Weelde, Belgium.
Also the eastern battle-group met with heavy hostile resistance near the Weelde railwaystation. The station and the surroundings were heavily damaged and many human lives were lost, for on the "In Memoriam"-card, which was printed later on, the names of 19 Polish soldiers, who died near the Weelde railwaystation, were mentioned.

After the conquering of these places on Belgian ground the 1st Polish Armoured Division crossed the Dutch boarder for the second time, to liberate [Baarle-Nassau]

Liturature:
In the Dutch language MERKSPLAS OORLOGS BOEK
Published by:
Heemkundekring MARCBLAS at Merksplas.
Wettelijk Depot: D/1984/4197/01

In the English language With the tanks of the 1st Polish Armoured Division written by K. Jamar.
Published by:
H.L. Smit & Zn. at Hengelo, the Netherlands, 1946.