After the last fights on the 8th of November 1944 the Germans retreated across the river Maas to the north of the Netherlands. The 1st Polish Armoured Division got the task to watch the frontline, existing of the river which is named successively Hollands Diep, Amer and Maas.

The commander of the 1st Polish Armoured Division, General Stanisław Maczek, stated in his memoirs he hoped to get some rest during the coming months, in order to train the reinforcements and to be reequipped, but on the contrary, the Division had a very worryfull period till April 1945.

German patrols infiltrated daily and it was really impossible to watch the frontline, because, as a start the weather was very wet and later on it started to freeze toughly. It was impossible to use tanks and during this winter everybody in the Division was ordered to do infantry tasks.

Bunkers were built in the southern dikes, but by the heavily cold weather and also by the attacks of German patrols the Division suffered losses. Another kind of danger was the long range of German artillery and the increasing number of flying bombs (V1), which flew over day and night.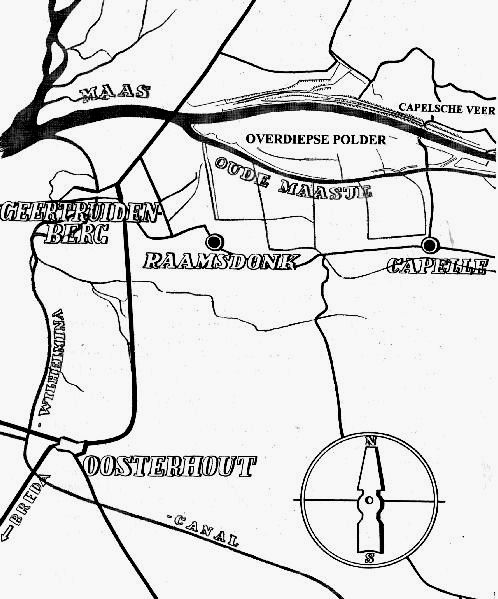 One day the Germans succeeded to come back and they estabished a salient on a peninsula, called "Overdiepse Polder". The landingstage of a ferry, called "Capelse Veer" lay in that polder. The Germans used that ferry to transport men and later even self-propelled guns to the saillant.

The 1st Polish Armoured Division tried to recapture the Capelse Veer. These efforts, on the 31st of December 1944 and on the 7th of January 1945, failed however and the result was a great number of casualities. At the end the Canadian troops could clear the peninsula on the 29th of January 1945.

In January 1945 the Germans had the impudence to cross the river with enough explosives to blow up a water-tower near the village of Sint Philipsland, which was in use as on Allied observationpost. The effort was defeated, but Prince Poniatowski Marie Andrzej, his tankdriver Powałka Bronisław and dragoon Podedworny Bolesław were killed in action.

The victims of this long winter have been buried in several Cemeteries in The Netherlands and in Belgium.

Literature:
In the Dutch language:
Provinciestad in Oorlogstijd, Authors Jack Didden and Maarten Swarts, ISBN 90-800393-3-0

Lokale Oorlogsfragmenten Author: Bas Zijlmans, ISBN 90-8038867-1-5

In K. Jamar's book (in the English language), titled With the tanks of the 1st Polish Armoured Division you'll find a report about this battles.
This book was in 1946 published by H.L. Smit & Zn. at Hengelo, the Netherlands.